Care Panes 0220.002: panes cleaner by Tunze
Posté le 17 septembre 2017 par
psetta
So that we can have super clean panes without risking the lives of our inhabitants, Tunze proposes an eco-designed product stem from biological engineering: the Care Panes 0220.002.
Introduction
What's the point of having beautiful corals, clear water if the panes of your aquarium are dirty from outside? Until now, you could either clean your panes with commercial products definitely not « reef-safe» or clean them just with water and leave traces.
Now you can count on Tunze Care Panes 0220.002 designed to be efficient and totally « Reef safe »!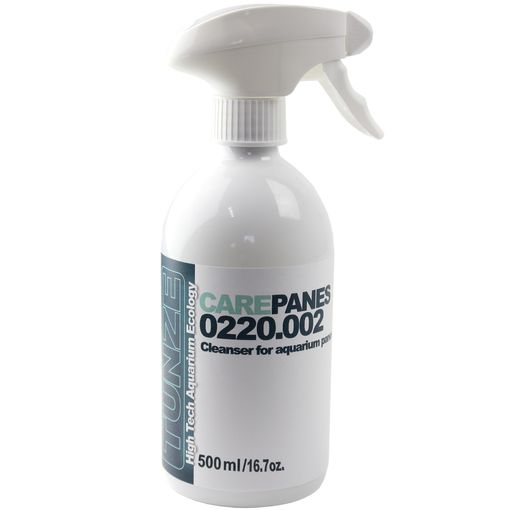 Principles
Unlike the majority of panes cleaners, Care Panes 0220.002 is eco-designed and strem from biological engineering, which means that its active ingredients are the result of the research on the biological processes.
Indeed, Care Panes 0220.002 is composed of:
complex mixture of essential oils, extracted from plants,
biosurfactant which is a surfactant produced by microorganisms, 500 times more powerful than surfactant from petrochemicals, while being fully biodegradable.
This formulation ensures rapid drying and thus the absence of traces!
Due to its design, Care Panes 0220.002 can be used on all types of surfaces, including the most sensitive (acrylic for example).
This eco-design makes the Care Panes 0220.002 not only « reef safe », which is indispensable, but also eco-friendly because it reduces the environmental impact of panes cleaning to a minimum.
Although the Care Panes 0220.002 is « reef safe », without risk of allergic reactions, Tunze has chosen to equip the bottles with a foam spray indeed it limits the spread of the product into the air and thus into the tank!
Moreover   this type of sprayer prevents the product from flowing too fast on the glass and thus to waste some.
Conclusion
Again, Tunze is thinking out of the box by proposing an innovative solution, with a quality product. With the Care Panes 0220.002 the care range is enlarged, permitting to your aquarium to become more beautiful and cleaner.
Characteristics
Recyclable bottle 500 ml with sprayer.
Price: 9.90 €
Source: Tunze