Testing of Aquaforest Calcium, Magnesium and KH Test Kits
Posté le 17 mars 2018 par
b92
Knowing the parameters of your aquarium is a very important thing to master for the proper maintenance of a reef aquarium. If you make additions, it is imperative to do regular tests to monitor and ensure you get correct values.
Aquaforest offers a 'TestPro' family of Ca, Mg and KH colorimetric test kits to measure their respective concentrations in the water of seawater aquariums.
This type of test can be use on a weekly basis, for example to have quick results, unlike a Marinlabl ICP-OES test which is thinner and complete but more expensive and requires a delay to get the results. In fact, both are complementary.
Each of the three kit boxes contains all the equipment necessary for carrying out the concentration measurements.
Let's go to the descriptions, generalities and specificities as well as the uses of the three different kits.
In addition to the necessary to carry out the tests, each of the boxes contains a reference solution of 15 ml which makes possible several tests if you wish to test the kit itself with a calibrated solution. It is a good idea to do tests to confirm, for example, that the kit is still valid in time. Of course do not to pollute this reference solution. It's necessary to think about margins +/-, measures, possible for each kit. For this, refer to each quality certificate provided for each kit to give you a right idea.
For the handling of these kits, tests with marine aquarium water and tests with the reference solutions provided and more have been made.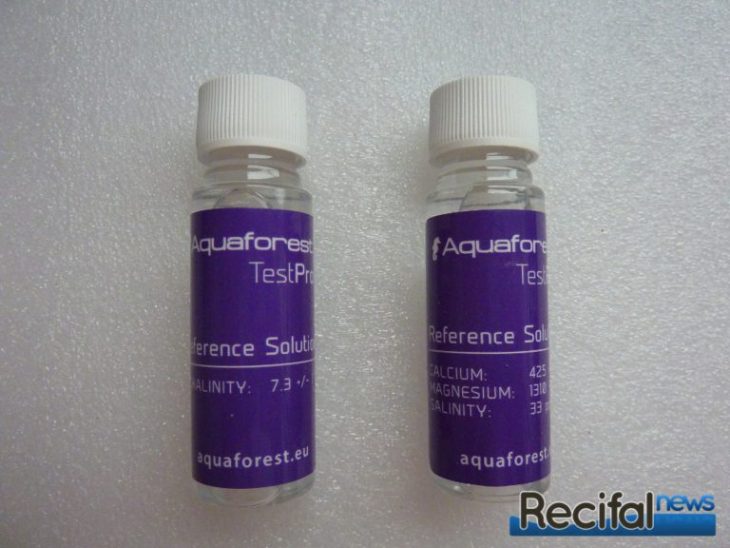 The Calcium kit
Box contents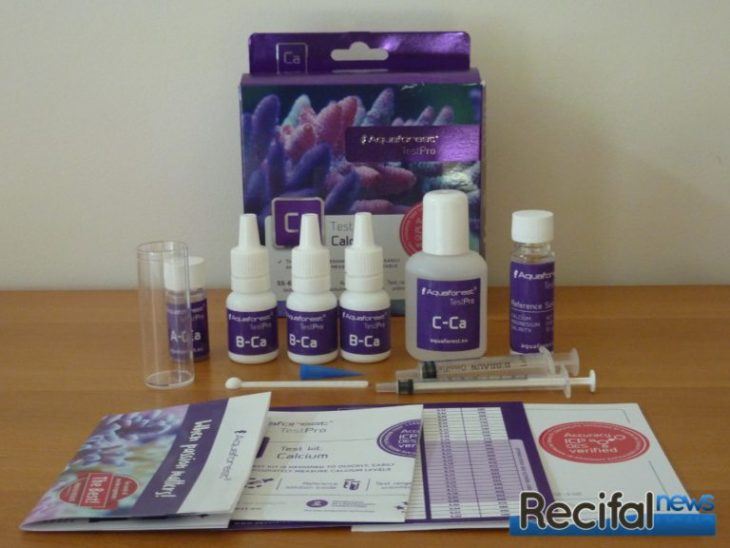 Performing the Ca test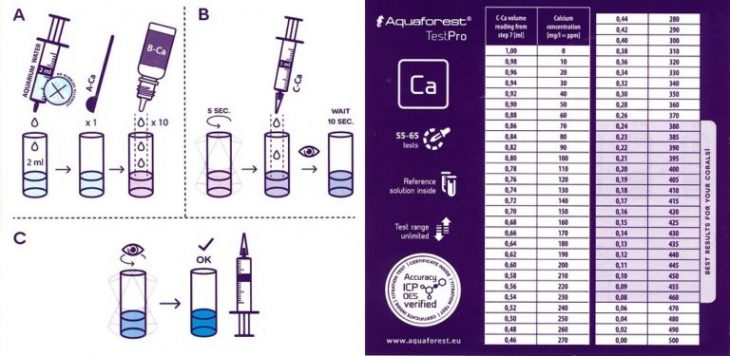 Test capacity and accuracy
Test with the calibration solution
The Magnesium kit
Box contents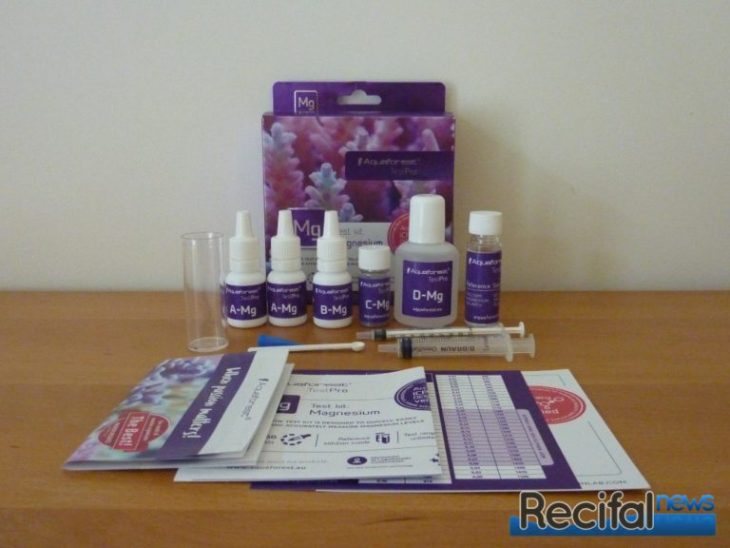 2 reagent A-Mg – 10 ml bottle
1 reagent B-Mg – 10 ml bottle
1 reagent C-Mg container
1 reagent D-Mg – 50 ml bottle
1 test vial
1 syringe – 3 ml
1 syringe – 1 ml
1 syringe tip for the 1 ml syringe
1 measuring spoon
1 multilingual instruction manual and 1 graphic instruction manual
1 quality certificate referencing batch and date
1 reference solution – 15 ml (Ca, Mg, Density)
1 flyer about Aquaforest products (English)
Performing the Mg test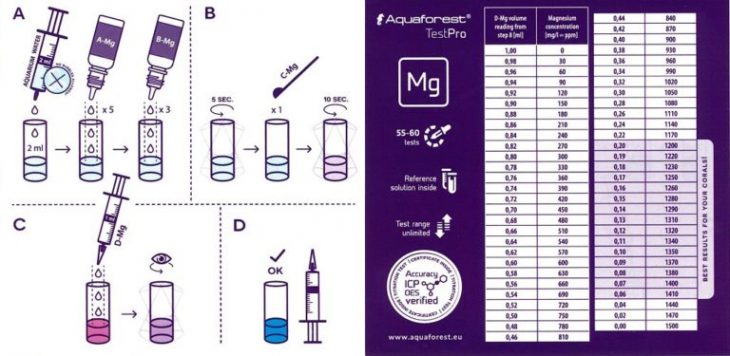 Test capacity and accuracy
Test with the calibration solution
The Alkalinity kit
Box contents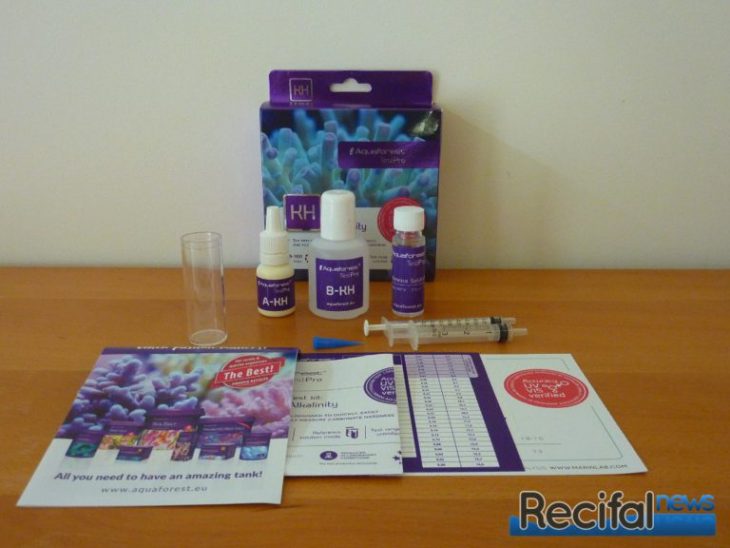 This kit allows to do between 78 to 100 tests. This variability is related to the concentration of Alkalinity (KH) in your aquarium that will influence the consumption of the B-KH reagent.
1 reagent A-KH – 10 ml bottle
1 reagent B-KH – 10 ml bottle
1 syringe – 3 ml
1 syringe – 1 ml
1 syringe tip for the 1 ml syringe
1 multilingual instruction manual and 1 graphic instruction manual
1 quality certificate referencing bach and date
1 reference solution – 15 ml (Ca, Mg, Density)
1 flyer about Aquaforest products (English)
Performing the KH test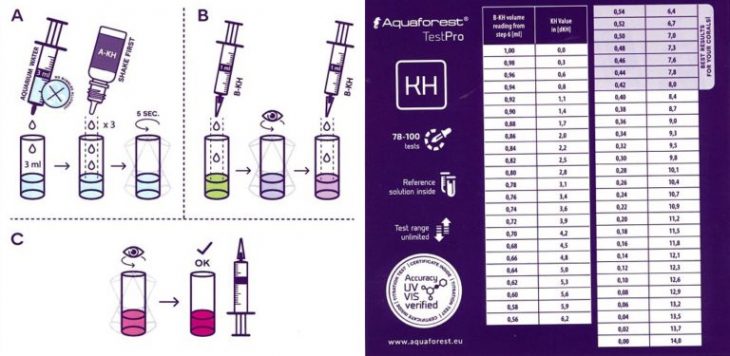 Test capacity and accuracy
Test with the calibration solution
Conclusion
Manufacturer information: Aquaforest test kits